If you need an unobstructed view of the land or want to take a prospective buyer up for an aerial survey of a ranch or mountainous property Rocky Mountain Rotors offers six helicopters to accommodate your needs in Belgrade, Bozeman, Butte, and Billings, MT: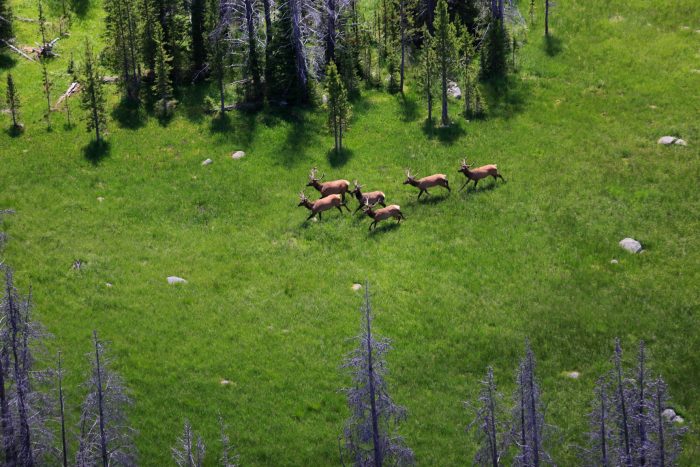 The Robinson R-44 Raven II is an excellent helicopter, with 3 passengers seats and offers unobstructed viewing from the front and back seats. This popular helicopter goes out for $900/hour.
The Bell 505 X is Bell Helicopter's newest model. The flat floor design, stadium seating and largest windscreen of all Bell's helicopters, gives this model unparalleled forward viewing for all passengers. This two-bladed model can comfortable seat 4 passengers and rivals with the comfort of the Bell 407 at a more affordable price of $2000/hr.
The Bell 206 L-4 Longranger is our utility style helicopter. The seating configuration is the same as our Bell 407, but a little bit narrower inside the cabin. This is the only helicopter in our fleet without air conditioning. This is our most popular external load platform, but is also a great helicopter to carry passengers. It is priced at $2200/hour.
The Bell 407 GX is one of RMR's most popular and useful helicopters. We configured this helicopter with the unbelievably large touring windows to give the client that feeling of having the doors off with amazing views. It is one of our four bladed helicopters and provides a very stable, smooth fast ride. The 407 can seat up to 6 passengers. It is the most powerful single engine helicopter in our fleet. This helicopter is $3000/hour.
Last is the granddaddy of them all. The Bell 429 is a twin engine, four bladed helicopter that provides the most stability, and leg room of any of our helicopters. Up to 7 passengers can go in style with this executive charter model. It is by far the fastest and smoothest helicopter around. The twin engine adds another level of safety as well as the single pilot IFR capabilities of this aircraft. The 429 also has very large touring windows for unobstructed viewing. This helicopter is $5000/hour.
All RMR helicopters are equipped with noise canceling Bose headsets, summertime air conditioning and arctic heaters for wintertime comfort. Contact us today to learn more!