A safe helicopter is one that has been inspected, maintained and repaired by professionals with the necessary knowledge, experience and skills required to service these complex machines. Just like you wouldn't let any old mechanic work on your car, it's essential that you find an authority on helicopter repairs in Montana. Rocky Mountain Rotors is that authority.
The Authority on Helicopter Repair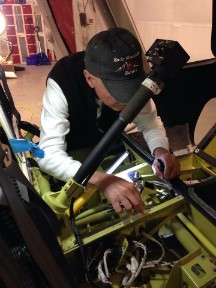 At Rocky Mountain Rotors, we specialize in providing service and maintenance for Bell and Robinson helicopters, but of course, can handle any helicopter that is brought into our hangar. Our vast range of experience and up-to-date training makes it possible for us to deliver top-tier service, no matter the bird.
Our helicopter mechanics in Montana have over 55 years of seasoned professionalism under their belts, and it shows in our ability to assess every helicopter brought to us and provide proper, sustainable solutions. Our A&P and IA have been through multiple Bell maintenance schools, Eurocopter and Robinson factory maintenance courses. We're also an approved Robinson Service Center and Bell Authorized Maintenance Center, centrally located at Gallatin Field in Belgrade, MT.
When you're seeking helicopter repairs in Belgrade, Bozeman, Butte, or Billings, MT, remember that no job is too big or small for Rocky Mountain Rotors. We keep a large inventory of spares and replacement parts on hand for all Robinson and many Bell models and will work to rapidly, yet thoroughly, address whatever your helicopter needs to get back in the air again safely.
When your helicopter leaves our hangar, you can fly with confidence knowing that a quality job has been done. We take pride in our helicopter mechanics in Montana and the rigorous work they do—come see for yourself why no other service provider can match the level of quality you'll get at Rocky Mountain Rotors!

Helicopter Sales
Looking for a broker specializing in helicopter sales in Montana? Rocky Mountain Rotors Maintenance is pleased to have a depth of experience in the industry and can help you facilitate a transaction that meets your needs and your budget. For more information and rates for our helicopter repairs, and 135 charters, please don't hesitate to contact us today regarding your needs by calling 406-579-9312.